Jeff Thompson, MD
Executive Advisor and CEO Emeritus
Gundersen Health System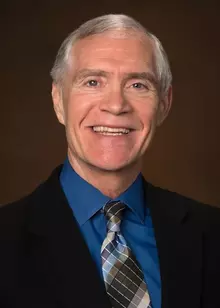 Jeff Thompson, MD, is executive advisor and chief executive officer emeritus at Gundersen Health System. Dr. Thompson is a trained Pediatric Intensivist and Neonatologist, and served as Gundersen's Chief Executive Officer from 2001 to 2016.
After completing his professional training in 1984, Dr. Thompson came to Gundersen with a desire to care for patients and be a leader among his peers. He served on Gundersen's boards beginning in 1992 and was chairman of the board from 2001 to 2014. Dr. Thompson also served as Executive Vice President from 1995 to 2001 and played a key role in the organization's negotiations and governance design.
A founding member and past board chair of both the Wisconsin Collaborative for Healthcare Quality and the AboutHealth ™ network, and a White House Champion of Change, Dr. Thompson has led Gundersen's nationally-recognized initiatives for patient care, quality improvement and sustainability.
Dr. Thompson has certifications in pediatric critical care, neonatal and perinatal medicine, and pediatrics. He received his medical training at the University of Wisconsin-Madison Medical School, University of California-Davis and Upstate Medical Center in Syracuse, N.Y. Dr. Thompson has authored and been featured in a number of articles, book chapters and abstracts on many healthcare, leadership and sustainability topics.
Dr. Thompson's speaking history
2018
Climate Leadership Summit, Denver, CO "What will it take? Strategies and Partnerships to meet Ambitious Local Climate Goals" 3/1-2/18
Workshop on Environmental Sustainability in Clinical Care, Yale University, New Haven, CT "Quality, Safety and Value: Waste Reduction and Pollution Prevention Metrics that Matter" 4/6-8/18
Medical Society Consortium on Climate & Health, Arlington, VA "Solutions for the Health Sector" 4/8-10/18
Australian Health and Environmental Sustainability Conference, Victoria, Australia "Paring Clinical Outcomes and Sustainability" (video presentation) 4/27/18
CleanMed, San Diego, CA "Engaging Senior Leadership" 5/6-8/18
CleanMed, Nijmegen, Netherlands "Optimism, Momentum, Discipline" 10/8-14/18
People, Planet & Sustainability, UW Madison, Madison, WI "Optimism, Momentum, Discipline" 10/29/18
2017
International Conference on Green Health and Care System, Beijing, China "Collaborating with Communities on Health Management"; "Development of a Green Health Care System" 01/17/17
Lean Association of Finland Biomedicum Seminar: Create Flow in Healthcare and the Service Industry, Helsinki, Finland "Cost Effective Reduction of Emissions Attributable to Hospitals" 02/04-17/17
National Academies Round Table on Population Health, Washington, D.C. "Improvement on Protecting the Health and Well-being of Communities in a Changing Climate"  03/13/17
Medical College of Wisconsin's Global Food Conference, Milwaukee, WI "Food and the Mission of Health" 03/30/17
Michigan Health Association Green Healthcare conference (keynote speaker), Lansing, MI "Ignoring Conventional Wisdom" 10/5/17
Healthcare Without Harm and Hospitals Saudáveis, III Latin American Conference of the Global Green and Healthy Hospitals Network, Sao Paulo, Brazil "Strengthening Health Care: Towards an Environmentally Sustainable and Healthy Leadership" 10/9/17
Healthcare Without Harm and Isalud University workshop, Buenos Ares, Argentina "The Reduction of Environmental Impact in Health Facilities" 10/13/17
2016
Greenhealth Academy: Practice Greenhealth "Leadership: A Call to Action" (webinar) 01/27/16
UW Madison, Madison, WI "Connecting Wisconsin and the UN Climate Talks" 02/09/16
The Global Green and Healthy Hospitals international webinar, "Leadership for Sustainability" 02/17/2016
Rotary Club of Madison: "Cost Effective Reduction of Emission Attributable to Hospitals" 09/30/16
Wisconsin Environmental Initiative (WEI) 20th-anniversary event panelist, 10/19/16
2015
Wisconsin Health News Newsmaker Event, Madison, WI "Gundersen Health System" 05/05/2015
White House Summit on Climate Change and Health, Washington, D.C. discussion panel "The Impacts of Climate Change and Underscoring the Important Role the Public Health Community can Play in Communicating and Preventing These Impacts" 06/23/15
Latin American Forum, São Paulo, Brazil "Pursuing Sustainability" 08/13-16/15
Green Build National Conference, Washington, D.C. "Gundersen Health System's Journey to Energy Independence" 11/18/16
US Department of State, Paris, France "Healthy People, Healthy Planet: U.S. Programs and Partnerships for Health Resilience" 12/02/15
United Nations Conference on Climate Change (COP21), Paris, France "Live from Paris: Connecting Wisconsin and the UN Climate Talks" 12/03/15
International Conference on Climate Change and Healthcare, Paris, France discussion panel "Governance and Financing of the Energy Transition" 12/04/15
2014
UCSF Office of Sustainability: Health and Sustainability Summit, San Francisco, CA "UCSF Health and Sustainability Summit" 05/29/2014
Global Health Institute-UW Madison, New York, NY A Civil Society Event on Climate and Action Health 09/22/2014
25th annual Institute for Healthcare Improvement Forum, Orlando, FL discussion panel "Environmental Sustainability and the Triple Aim: A Call to Action" 12/11/2014
2013
RENEW's Energy Policy Summit, Madison, WI keynote speaker, "Powering Positive Action" 01/09/2013
Innovators Showcase: Wisconsin's Climate and Energy Leaders A Public Forum, Milwaukee, WI keynote address "Live the Mission" 04/29/2013
White House Champion of Change, Washington, D.C. 07/09/2013
Greenhealth Academy: Practice Greenhealth, webinar, discussion panel "Engaged Leadership: What Does Environmental Sustainability Leadership Look Like?" 10/09/2013
U.S. Chamber of Commerce 2nd Annual Health Care Summit, Washington, D.C. discussion panel "Integrating and Coordinating Care" 10/29/2013
2012
CleanMed, Denver, CO keynote speaker, "Live the Mission" 05/02/2015
Healthier Hospital Initiative: White House Council on Environmental Quality, Washington, D.C. discussion panel "Fostering a Culture of Environmental Sustainability" 07/24/2012